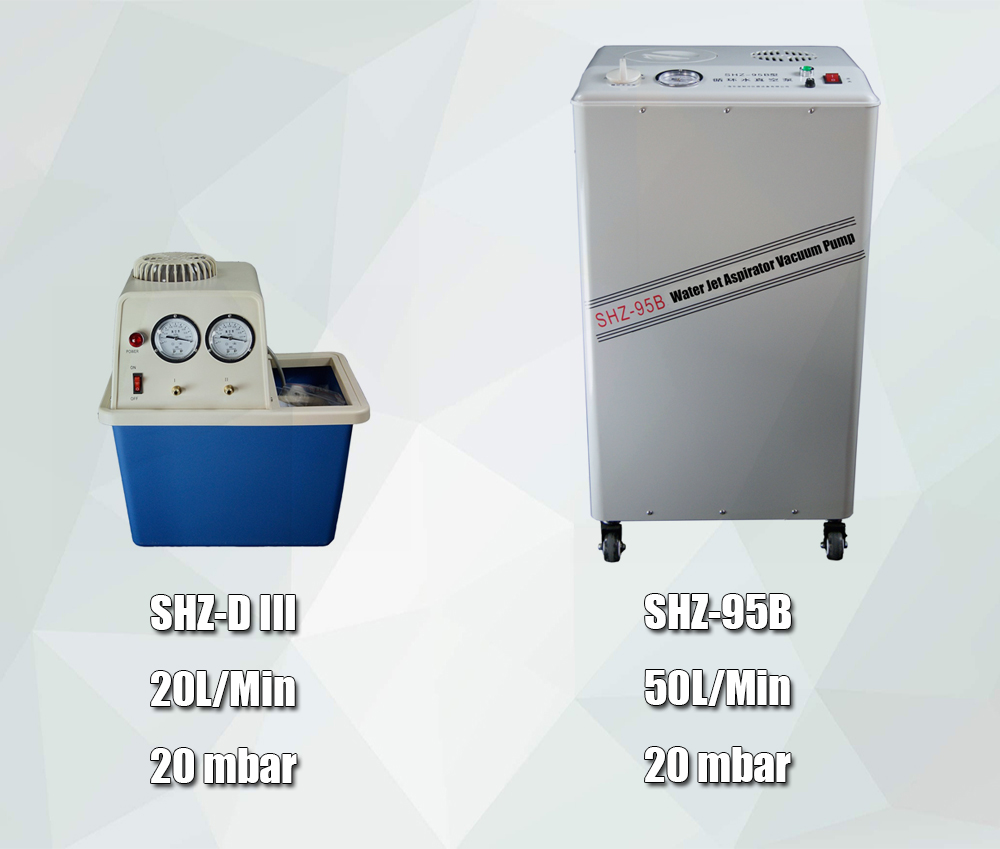 Chemical Resistant Anti-Corrosion Water Jet Aspirator Vacuum Pump
---
HJLab Water Jet Aspirator Vacuum Pump is the suitable choice to support lab rotary evaporator and glass reactor to complete the whole evaporation process efficiently.
It provides vacuum condition for evaporation, distillation, sublimation, crystallization, filtration depressurization, drying, degassing and other processes.
Water Jet Aspirator Vacuum Pump is oil-free, chemical resistant and easy to maintain. Vacuum up to 20mbar is generated by water flow via Venturi Effect. They are particularly designed for labs and small scale testing in universities and colleges, scientific research institutes, chemical industry, pharmacy, biochemistry, foodstuff, pesticide, agricultural engineering and biological engineering.
---
---
Item
Model: SHZ-D III
Model: SHZ-95B

Pumping Speed

20L/Min

50L/Min

Ultimate Vacuum Level

-0.098 MPa (20mbar)

Reservior Capacity

15 L

50 L

Pump Suction Port Quantity

2

5

Pump Power

180 W

370 W

Dimension (W*D*H)

400*280*420 mm

450*340*870 mm

Weight

15 KG

37 KG

Power Supply

220V 50~60Hz

Components Materials

Pump head: PP

Water Tank: PP

Suction port: PTFE

Fittings: PTFE

Connection Tube: Rubber Hose