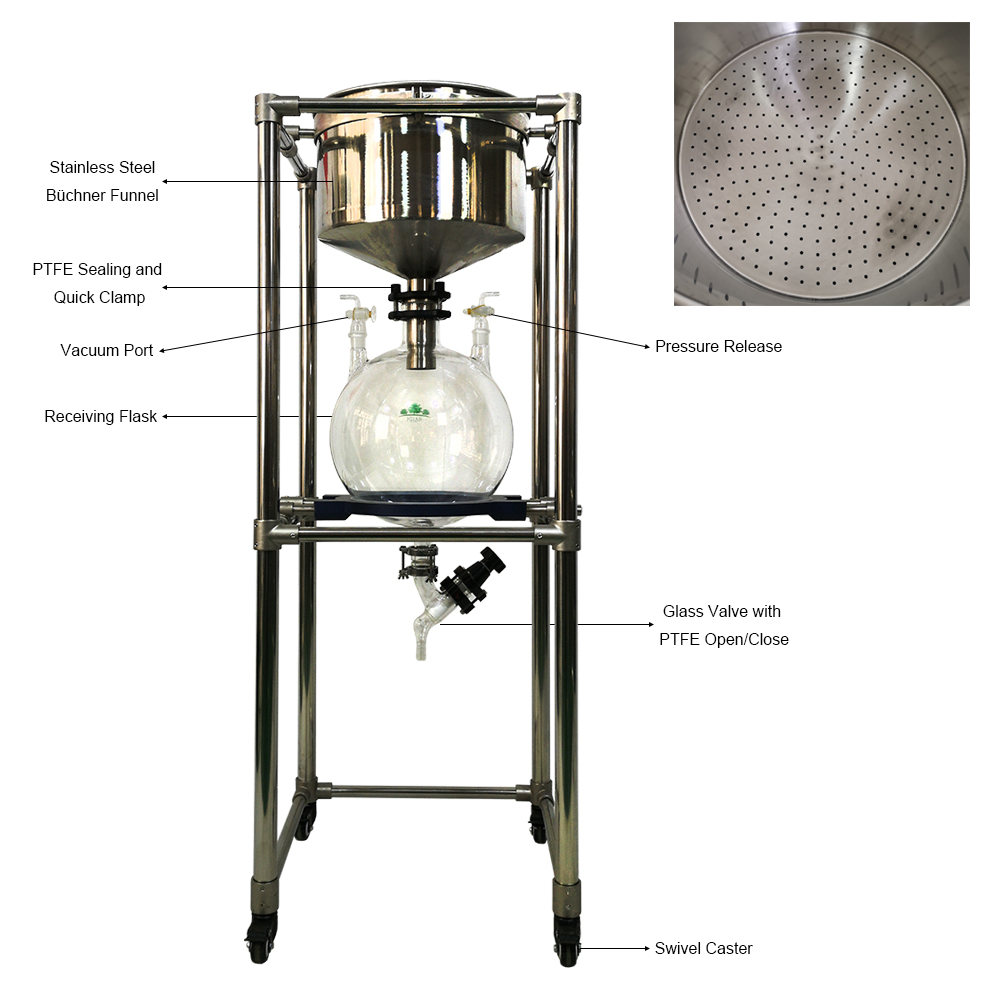 Vacuum Buchner Filtering Funnel
---
Shanghai HJLab Vacuum Buchner Filtering Funnel is technique whereby suction is applied to a mixture of liquid and solid. It is always ideal whenever there is a need to separate and keep the precipitate safe from a solution by applying the suction technique.
Advantages Of Using Buchner Funnel Vacuum Filtration
---
Advantages of Using Buchner Funnel
It makes use of readily available Spunbond which comes in varying and effective pore sizes
It uses a suction technique making it faster than gravity filtration.
It is more efficient at removing residual liquid to give out a purer solid than gravity filtration.
Disadvantages of using Buchner Funnel
The filter paper pores can permit finer solid particles to penetrate during suction.

Not recommended for microscale purposes as it may result in a significant loss of the targeted filtrate

Can only be conducted with a funnel that has flat surfaces like the Hirsch or Buchner funnel.


Not suitable for the solvent with low boiling points. Such solvent would just evaporate, while the dissolved solids upon

precipitating, would clog up the filter pores and get stuck on the inside of the funnels.

Lastly, this method is not recommended for hot solutions since the solvents in such a case are close to its boiling point.
---
---
ZF-10

ZF-20L

ZF-30L

ZF-50L

PP Lid

3 Options:

1) Stainless Steel (SUS304)

2) Ceramics (Porcelain)

Funnel Capacity

10L

20L

30L

50L

Funnel Filtering Diameter

Stainless Steel: 350mm

Ceramics: 300 mm

Stainless Steel: 500mm
Ceramics: 300 mm

Filtering Membrane

Materials: PP / PTFE / PVDF /PEF/ Nylon

Micron: 0.2 μm to 1000 μm for your selection

(Optional, not include)

Receiving Flask Materials

High Borosilicate Glass 3.3

Receiving Flask

Sealing

Discharge Valve

Glass Discharge Valve with PTFE open/close

Swivel Casters

Vacuum Pump

3 options:

1) Rotary Vane Vacuum Pump

2) Water Jet Aspirator Vacuum Pump

3) Diaphragm Vacuum Pump (Oil-Free, Water-Free)