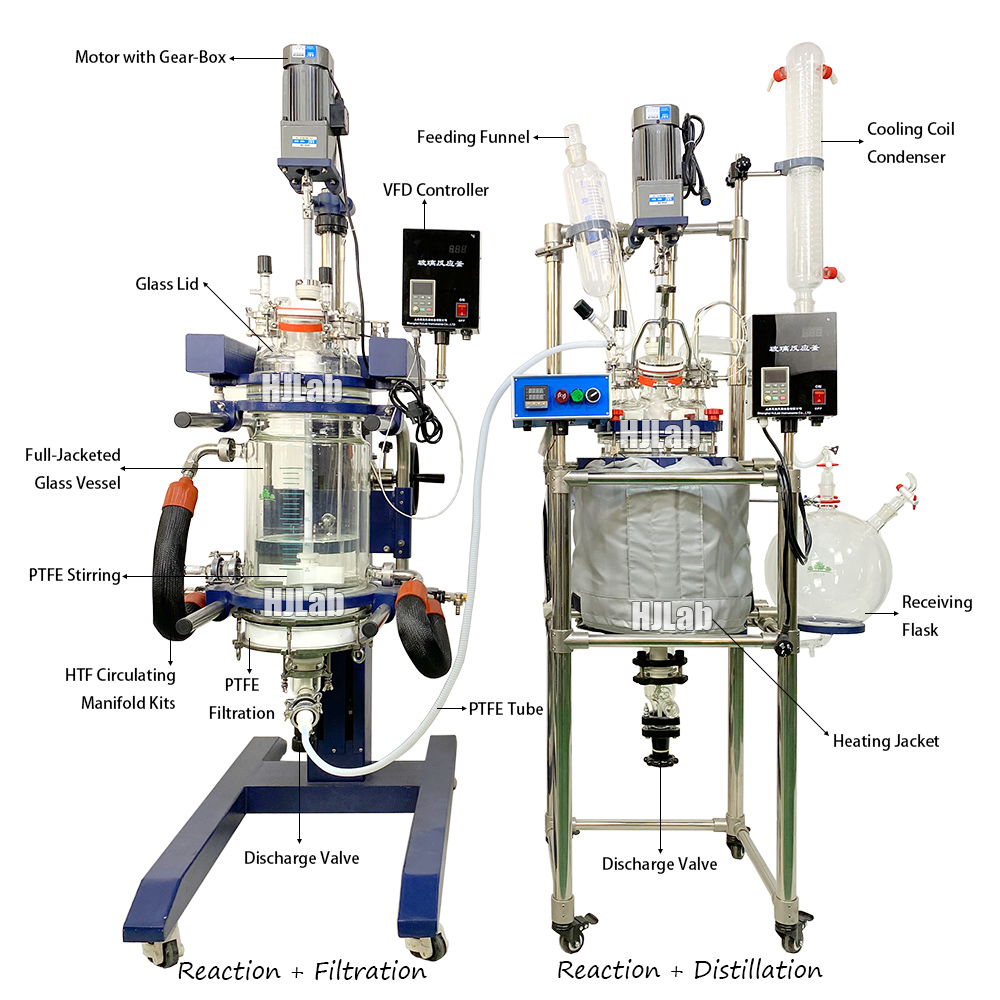 Integrated Synthesis Reaction Filtration Distillation in-one-batch Jacketed Glass Reactor
---
Reaction and Filtration in one Reaction Vessel

Integrated PTFE Filtration for Crystallisation or Peptide Synthesis

PTFE Filtration without any Metal or other Pollution.

Full-Jacket Thermal Layer. No Any Thermal Transfer Dead-Space.

Thanks to Auxiliary Lifting-Arm for easy PTFE filtration module Installation.

Ideal Design for crystallization, solid-liquid separation and polypeptide synthesis.
PTFE Filtration Module Structure

---
Structure Description as following:

1) PTFE Coated O-Ring
2) PTFE Gaskets with external screw thread
3) PTFE Flat Gaskets
4) PTFE membrane / fabric (not included by default)
5) PTFE board with holes
6) PTFE baseboard with internal screw thread
7) PTFE & Glass Discharge Valve
8) Lifting/Movement Trolley
9) PTFE Tubes
10) Liquid Glass Receiving Flask
---
Items

Details

Glass Materials

High Borosilicate Glass 3.3

Wetted Parts

Glass and PTFE

Reaction Vessel Capacity

5L, 10L, 20L, 30L, 50L, 80L, 100L, 150L, 200L

Vertical Baffles inside of the vessel (Optional)

Thermal Jacket

Ring Baffles within the Thermal Jacket (5L, 10L, 20L, 30L)

Full Jacket Design (5L, 10L, 20L, 30L)

Filtration Area

ID215 Flange: 346 cm² (5L, 10L, 20L, 30L, 50L)

ID280 Flange: 615 cm² (30L, 50L, 80L, 100L)

ID400 Flange: 1,256 cm² (50L, 80L, 100L, 150L, 200L)

Filtration Micron

Micron: 0.2μm to 200μm (depends on your materials)

Filtration Materials: PTFE

Note: Not included by default

Stirring Motor

DC Brushless Motor, 50W, 100W, 150W

AC Motor with Gear Reducer: 120W ~ 1500W

Explosion-Proof Motor: 180W, 250W, 370W, 550W, 750W, 1500W

Stirring Range: 50 ~ 600 RPM

Realtime Display: Mixing Speed, Materials Temperature

Mixing Sealing

PTFE + Mechanical

Optional: Magnetic coupling seal

Condenser

Cooling Coil Condenser

Dropping Feeding Funnel

Dropping Feeding Funnel with PTFE Metering Valve and Equalizing Arm

Glass Lid

Diameter: DN215, DN280, DN400 for your selection

7 Openings:

1) Dropping Feeding Funnel

2) Solid Materials Feeding

3) Stirrer

4) Liquid-Feeding

5) Temperature Probe

6) Condenser Reflux

7) Reserved (By default: Pressure Release)

8) Spray Cleaning or PH measurement (Optional)

Stirring Impeller

PTFE Anchor Type

PTFE Pitched Paddle Type

PTFE Frame Type

Operating Temperature

-90℃ to +230℃

ΔT - Thermal Shock Resistance

90℃ (Double Wall)

Operating Pressure

Full Vacuum to Atmospheric Pressure

Operating Jacket Pressure

Up to +0.5 bar (0.05 MPa)

Power Supply

100V ~ 240V, 50Hz/60Hz
---