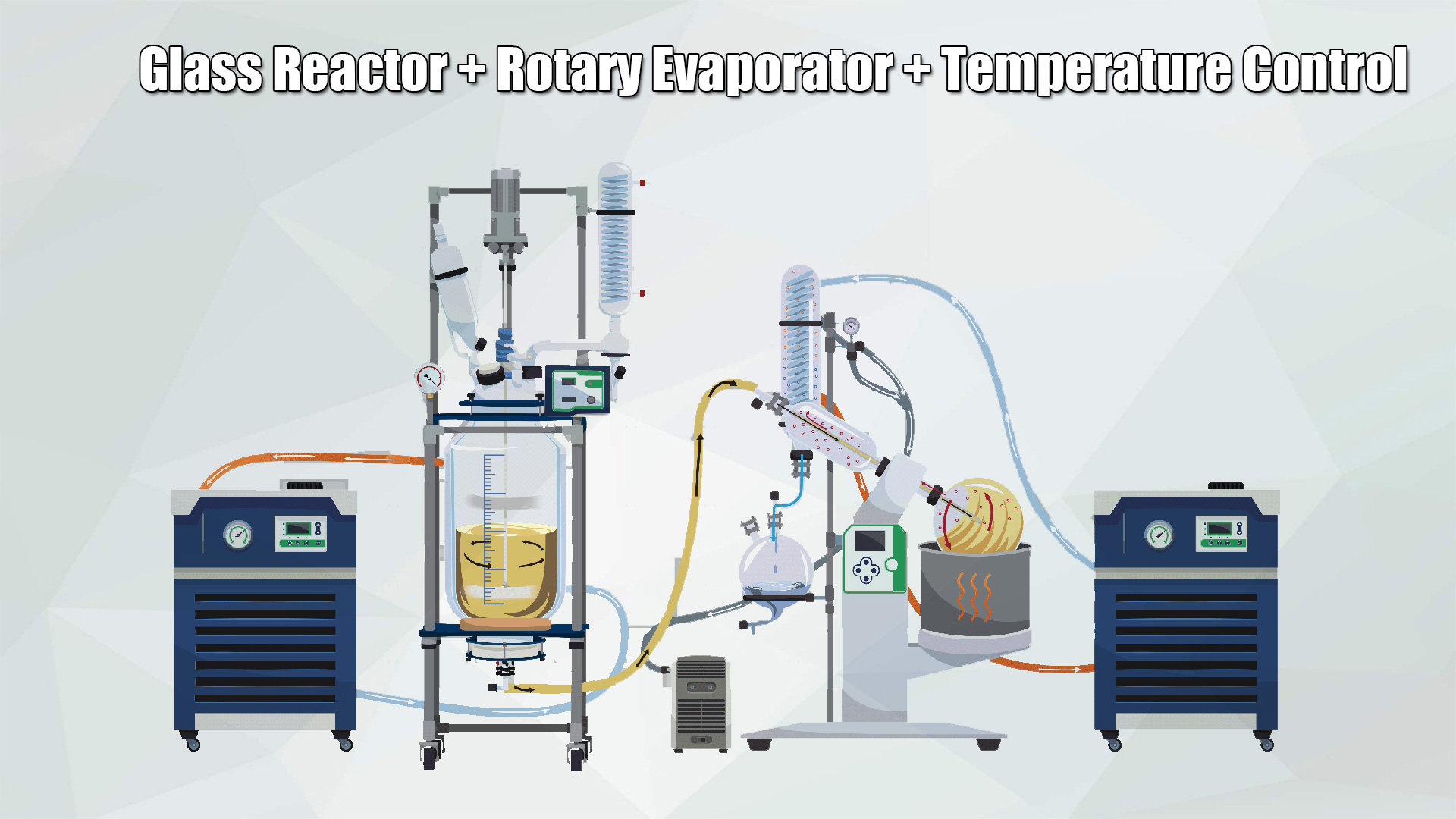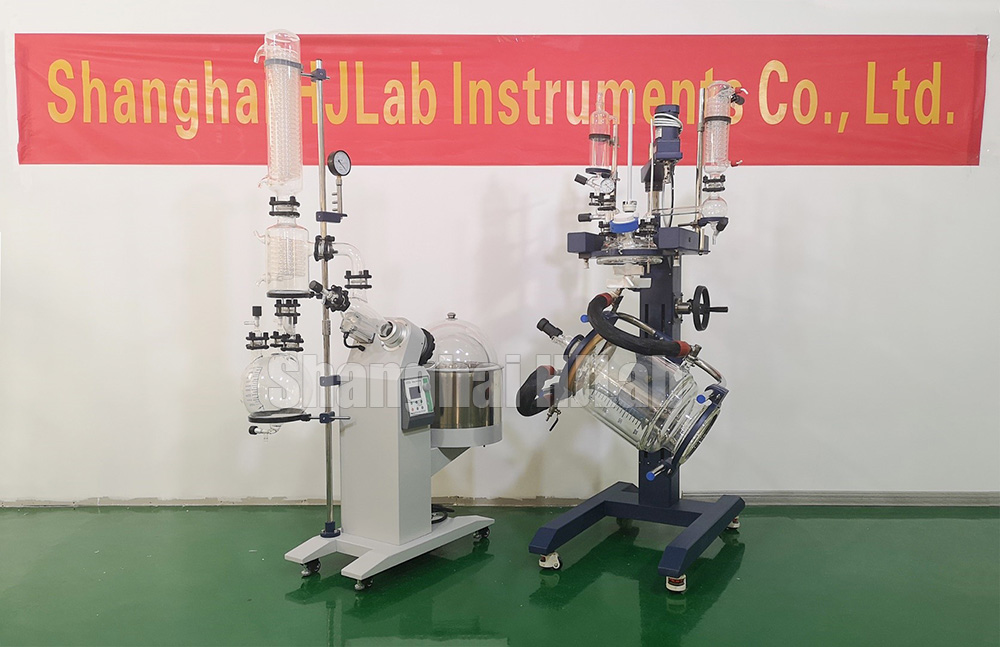 HJLab Pilot Scale Rotary Evaporator - Features
---
The new HJLab Pilot Scale Rotary Evaporator 10L to 50L are now ECM tested to CE standards and ETL/UL(Optional).
The certifications is required by many municipalities, and it also provides a higher standard of equipment safety and lifespan.
All HJLab Pilot Scale Rotary Evaporators come with all PTFE valves for solvent-resistant operations. Also come standard are vertical glassware and digital temperature/rotation controllers. Their optimized bath volume allows for rapid heat-up times.
The condenser units are specially designed glass tubes that utilize surface area extremely efficiently.
That's why our evaporators consistently deliver reliable and reproducible process results that are usually reserved for more costly systems
Motorized Lifting | LCD Display | High Quality Glasswares

All PTFE Valves | Auto Feeding | Continuous Discharging for Easy Operation

Explosion Proof Design | Dual Condensation Columns | Dual Receiving Flask

PTFE + Viton Bi-Directional Composite Sealing | Corrosion-Resistance

Specialized Motor + High Quality Electrical Parts for 24 Continuous Operation
---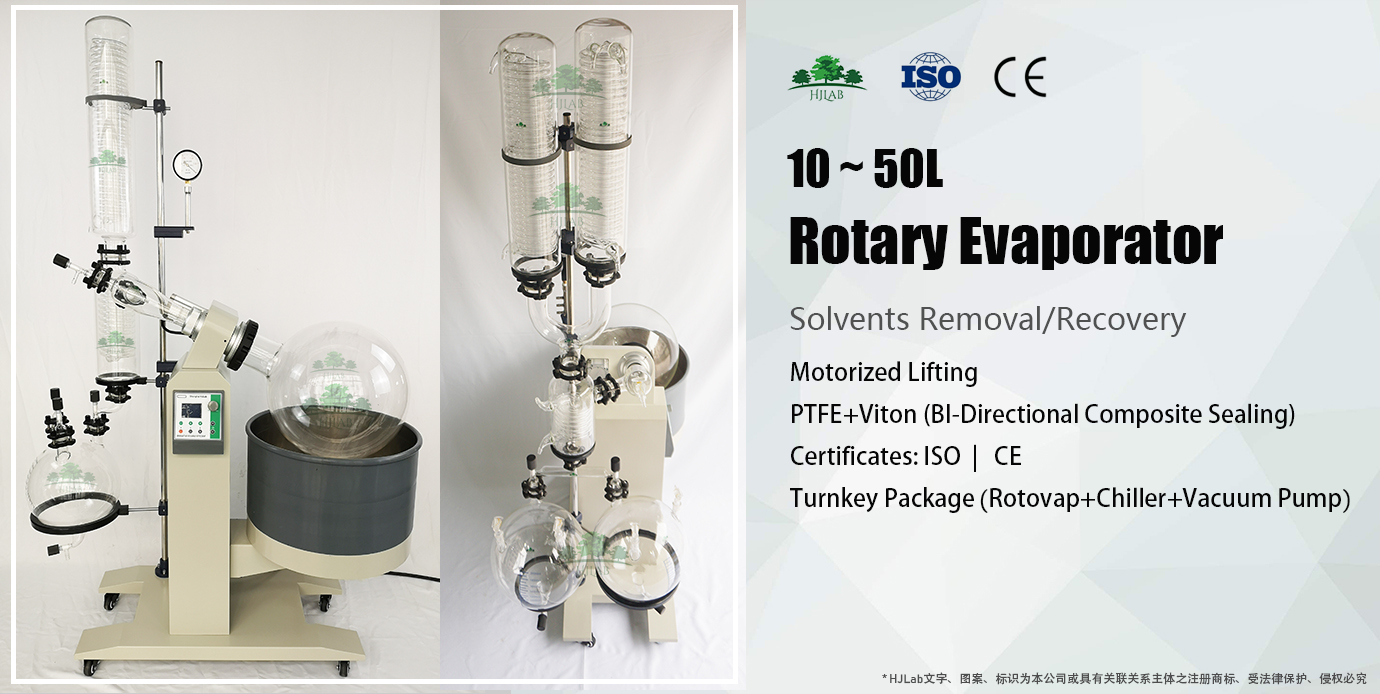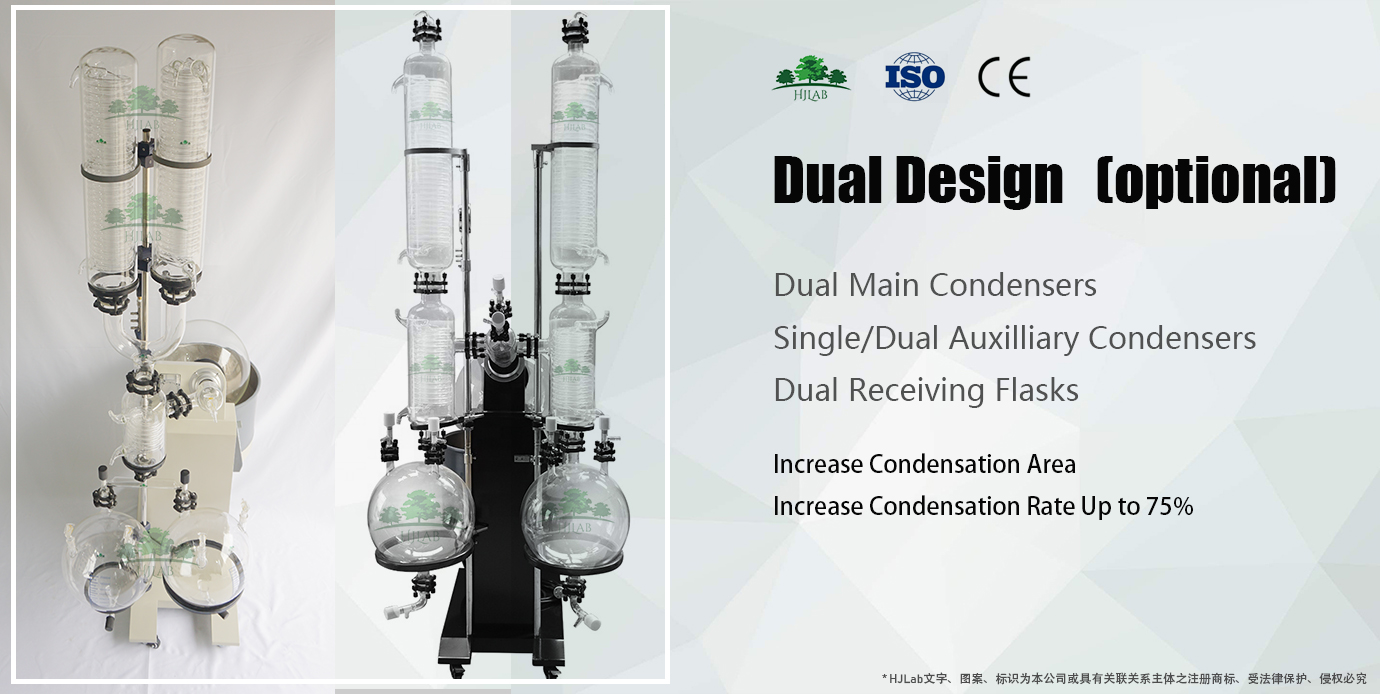 HJLab Pilot Scale Rotary Evaporator - Specifications
---
Shanghai HJLab

Model:

10L Rotary Evaporator

RE-5210

20L Rotary Evaporator

RE-5220

50L Rotary Evaporator

RE-5250

Temperature Range

RT~95°C (Water Bath)

Optional: > 100° C (Oil Bath)

Rotation Speed/Temperature

LCD straight-forward display

Heating Power

3,000 W

4,000 W

6,000 W

Overall Power

3,300 W

4,300W

6,300W

Vacuum

PTFE + Viton Gaskets ( Vacuum Level: < 3 torrs )

Rotation Power

300 W

Specialized Motor, quiet and vibration-free and long-time continuous running

Rotation Speed

Rotary Knob stepless control: 20~110 RPM

Condenser

Main Condenser + Auxiliary Condenser、Tripe-Layers Cooling Coil

Optional 1: Single Main, Single Auxiliary, Dual Receiving Flask

Optional 2: Dual Main, Single Auxiliary, Dual Receiving Flask

Optional 3: Dual Main, Dual Auxiliary, Dual Receiving Flask

Optional 4: Condenser Protection & Insulation Sleeve

Condensation Area

Main: 0.390 m2

Auxiliary: 0.253 m2

Main: 0.948 m2

Auxiliary: 0.358 m2

Main: 1.150 m2

Auxiliary: 0.607 m2

Rotary Flask

Flange Opening: both are φ125mm

10L

20L

50L

Optional 1: Stainless Steel Flask Carrier

Optional 2: Plexiglass Water Bath Cover

Optional 3: Install 20L rotary flask on 50L rotovap, Install 10L rotary flask on 20L and 50L rotovap

Optional 4: Rotary Flask Adapter to accommodates 1L, 2L, 3L and 5L

Receiving Flask

5L

10L

20L

Water Bath

SUS304 Materials, Exterior Liner: rubber, PID Temperature Control: ±1 °C

Water Bath Lifting

Motorized Water Bath Lifting, Linear Actuator for lifting smoothly

Lifting Distance

0 ~ 180 mm

Vacuum Sealing

PTFE + Viton Bi-Directional Composite Sealing | Corrosion-Resistance

Valves

PTFE Needle Valves for easy operations

Evaporating Speed

Water: 3.2 L/hour

Ethanol: 8.6 L/hour

Water: 5 L/hour

Ethanol: 14.3 L/hour

Water: 9 L/hour

Ethanol: 24.5 L/hour

Safety

Over-current, Over-temperature, Dry-run, Built-in circuit breakers

Best Using Environment

Temperature: 5 ~ 35 °C , Humidity: <= 65%

Power Supply

220V, 50 ~ 60Hz, Single Phase

Dimension (W*D*H)

100*55*174 cm

112*68*190 cm

135*77*223 cm

Weight

85 KG

90 KG

130 KG
More Pictures - HJLab Rotary Evaporator
---